NW Yachtnet
Tacoma Waterfront Office 1717 Dock Street
Tacoma, Washington, US, 98402
Tel:253-677-8950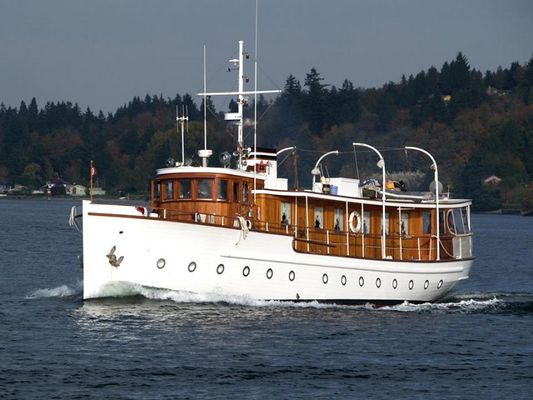 1929 Custom Classic Fantail
Port Orchard, Washington
Builder/Manufacturer
HOFFAR-BEECHING
DEERLEAP IS NOW AVAILABLE FOR SHOWINGS BY APPOINTMENT AT HER MOORAGE IN PORT ORCHARD, WA THRU MAY 31. SHE WILL BE CRUISING TO THE BROUGHTON ISLANDS, NORTHERN BRITISH COLUMBIA THRU LATE AUGUST, AND WILL PARTICIPATE IN THE VICTORIA WOODEN YACHT FESTIVAL, FIRST WEEK IN SEPTEMBER.  SHE IS AVAILABLE FOR SHOWINGS DURING THIS TIME BY APPOINTMENT, AND FLIGHTS ON KENMORE AIR CAN BE BOOKED TO HER POSITION BY DATE.
PHOTOS SIMPLY DON'T DO JUSTICE TO THIS SPECTACULAR YACHT. THE SCANTLINGS ARE LIKE A TUG, THE FINISH IS LIKE A MIRROR!! YOU MUST SCHEDULE A VISIT ON DEERLEAP TO OBTAIN THE FULL IMPACT AND APPRECIATION FOR THIS VESSEL!! YOU WON'T BE DISAPPOINTED!!
I will wager that that THIS IS THE MOST FUEL EFFICIENT MOTORYACHT ON THE WEST COAST- 4GPH @ 1200 RPMs cruising 7.8 knots!! These heavy-duty GARDNERS tick away like Swiss watches with very little engine noise transmitted into the PH and main deck. 2400 nm range with reserves.
BOAT HOUSE AVAILABLE WITH PURCHASE OF VESSEL, WITH TRANSFERRABLE MOORAGE IN PUBLIC MARINA. 7.2 miles to Bremerton National Airport, jet capable. Not included in price of vessel.
DEERLEAP  was built in Vancouver, BC, by Hoffar-Beeching boatyard, later Boeing Canada, for Colonel McLimont, the President of Winnipeg Power and Light. She was originally powered by Hall-Scott gasoline engines. She was designed with exceptional viewing capabilities aboard a comfortable and elegant cruiser, built specifically for excursions to Alaska. She has cruised extensively from Mexico to Alaska by the present owners.
Her original design, which remains mostly intact today, specifically on the main deck, included a large combination observation saloon and formal dining room, galley forward, and up 2 steps to the spacious Pilothouse. A day-head has been added just aft of the Pilothouse.  Aft of main deck living area are French Doors opening to a spacious covered aft deck with a central teak dining table and luxuriously, newly Sunbrella covered, circular seating area surrounding the broad fantail. 
DEERLEAP passed through several owners, including being conscripted during World War II, wearing Navy Gray paint, and designated as B154 during her service and having huge, heavy-duty VIVIAN 120HP slow turning diesels installed.  After the War, she was purchased by well-known mining engineer Campbell Church, where she joined his charter fleet of famous yachts, and frequently hosted luminaries including Bob Hope, Bing Crosby, and John Wayne, financier Andrew Mellon Jr., and in the 60s, hosted the Kennedy Family and various movie stars in Southern California. By the 80s DEERLEAP had fallen into disrepair and faced the auction block, a US Federal Marshall's Sale, where the present owner acquired her... and was actually owned by the US Government, who controlled the boat, she sat 4 years unattended, until all of the legal matters were resolved!! ... some 40 years ago. (Civil foreclosures settled by US Marshall's sale do NOT clear Jones Act issues.)

Since acquiring DEERLEAP in the 80s, she has been the major focus of the owners to restore her and significantly improve her throughout. The lower deck stateroom accommodations have been very professionally reconfigured, and the twin GARDNER 6LX engines later replaced the "screamin Jimmies" to make her a very quiet and efficient cruising yacht.
The owner comments on the prime aspect of the yacht he enjoys and respects, more than any other, is her seaworthiness.  " I've had the boat lying completely on her sides along the coast of Oregon and I never doubted her for a moment!! She was built to go anywhere in any conditions."
"Her Roaring Twenties charm has always attracted me" said the owners late wife. "It's that, more than anything else, that I think is missing in boats today." 
Note, much of the fine collectibles, sterling ware and serving sets, ships logo China dishes, art and scrapbooks of history on the yacht will accompany her sale.

DEERLEAP has been maintained to Bristol Condition-yacht standards by her present owner, with a bottomless checkbook budget to continuously improve and tweak her presence. She is such a regular winner at the Classic Yacht Association Annual Wooden Boat Festivals, the owner does not campaign her any longer, to give others a chance at winning!!  She is also no "Boathouse Queen" either, DEERLEAP has been cruised every year for 16 to 20 weeks up to the Broughton Islands of Northern BC, and occasionally Alaska. She is ready to go TODAY!!
The owners age and health, and his recent acquisition of 2 float homes in the Broughton's, where they enjoy spending the summers, brings her to the market for her next Stewards to enjoy and cruise into the future.
This is a rare OPPORTUNITY, the first time in 40 years, DEERLEAP has come to the market.
You won't be disappointed in this SPECTACULAR yacht offering.
THERE ARE SOME SPECIAL SURPRISES ONBOARD, NOT INCLUDED IN THIS LISTING THAT MAY BE INCLUDED IN HER SALE.  COME ABOARD TO SEE THESE SPECIAL AMENITIES!!
DEERLEAP was hauled in the Spring of 2022 to prepare for summer cruising. A high-level Valuation Survey was completed during the haul out, no issues surfaced on that survey.
This yacht can easily be handled and moored by a competent skipper and a line handler. With her twin-screws, hydraulic bow-thruster, port and starboard doors from the Pilothouse, and adjustable Boarding Ladders (Passerelles) both Port and Starboard, with lines prepared prior to landing, a line handler can be landed onto the dock and the skipper can then maneuver the vessel alongside and drop bow, stern and spring lines to secure the yacht.
DEERLEAP  is in her boathouse moorings in Port Orchard, Washington near Bremerton and is ready for appointments for showings.

PLEASE CALL- BRING OFFERS
Specifications
Total Engine Power
250 hp
Water Tank Cap.
1,000 gal
Displacement Type
Half Load
Engine 1 Specifications
Propeller Type:
4 Blade, Bronze
Engine 2 Specifications
Propeller Type:
4 Blade, Bronze
Engine Location:
Starboard
VESSEL WALKTHROUGH
Boarding access from dockside or from a tender is via Port and Starboard, fully adjustable Boarding Platform with Stairs and handrails, Passerelles, midship. Once aboard, you are greeted with wide teak decks which provide access to the main cabin, Pilothouse, and forward to the expansive foredeck with teak Scuttle access to the Crews Quarters, Engine Room, and the anchor windlass and comfortable cushioned seating around the bow. Aft there are weather doors protecting the access to the expansive covered (boatdeck) fantail aft deck and seating area.
MAIN DECK
Access to the maindeck cabin is via a single starboard side door, forward of midship, at the Galley.  Right and up two steps is the expansive Pilothouse with Port and Starboard doors to the main decks, with complete electronics and navigational suites. A wide (roll and pleated with buttons) leather seat is one step up behind the steering station for the skipper and visitors.
Immediately behind the PH on the main deck is the Day Head, forward of the Galley.
The Galley is compact and efficient featuring a period O'Keefe & Merritt 4 burner propane with electric oven stove, microwave oven, Broan trash compactor, a full household sized LG refrigerator and freezer, generous cabinetry and storage with a custom spice cabinet. To port is the galley sink with an expansive window for natural lighting and views for the Chefs.
Midships is the Dining Salon with a large mahogany period table and seating for 8, highlighted by a period crystal chandelier. Teak cabinetry surrounds the dining area forward and to starboard with extensive storage and display areas for silver service and serving pieces, period Espresso Maker and a fine collection of cut crystal liquor serving decanters. There is a full set of China dinnerware with ships name/ logo is included.
Further aft is the Salon featuring the bannistered stairway access to the lower deck, followed by more cabinetry with a "pop-up" TV to the starboard side, and large overstuffed couch, and another custom cabinet hosting the pop-up computer center. Beveled glass and teak French doors provide access to the expansive covered aft deck and fantail seating area. The aft deck is protected by custom Eising Glass curtains which roll up for summer cruising.
LOWER DECK- Forward
Beginning forward, the crew and engine room access is forward on the foredeck, accented by the large teak Scuttle with retractable top, and double doors facing aft for weather protection. Entering the Scuttle there is a 10 step angled ladder down into the Crews Quarters and storage area landing. 
Forward, in the forepeak, is a storage area aft of the chain locker. Next is a single crew berth to Port with generous drawered storage under. Opposite, where there were 2 additional crew bunks, now features dry goods storage racks, in the forward section, the Icemaker and small Freezer. Aft to the engine room bulkhead is the stacked BOSCH washer and dryer, and on centerline, the electrical control panel and inverters. A center insulated door provides access to the full beam, stand-up engine room.
LOWER DECK- Staterooms
From the Salon midships, proceeding down the bannistered circular stairway provides access to the 4 staterooms companionway.
To the right and forward is the generous, full beam, Master Suite complete with full ensuite head and shower. Centerline Island Queen berth. This suite features, both port and starboard (his and hers), a corner louver ventilated and full length built in teak hanging lockers, with automatic lighting when opened, slide out hanging racks, and 9 drawers for storage. Natural lighting is provided by active portholes port and starboard.
Just aft of the Master and to Starboard, and then to Port opposite the stairway, are two twin bunk staterooms with crossed-over/under bunks and hanging lockers and a vanity/shaving sink.
Aft of the stairway and to Starboard is the shared head and shower for the three lower staterooms.
Further aft, and on centerline, is the full beam (in the curved fantail area of the hull) expansive stateroom featuring raised, generous twin bunks both port and starboard. There is generous drawer storage under the two bunks and louvered hanging lockers on either side of the entry door. A VIP stateroom if you will.
BOAT DECK
Access to the Boat Deck is via an angled ladder with teak treads, 10 steps to the slider opening. A safety rail surrounds this access on the Boat Deck. 
All the way forward is the raised Pilothouse which houses the retractable mast, various antennae and search lights. Just aft of the Pilothouse is the exhaust Funnel decorated with the ships logo and signal flags.
Behind the funnel is a 16 CUFT chest freezer, followed by the custom, twin 5 gal., propane bottle storage cabinet.
Proper ships lifeboat type, twin beam davits with 12v electric cable winches are placed aft for handling tenders.  The Ranger sailing dinghy and Avon RIB and secured on custom bunks, port and starboard. Forward to starboard is the manual davit for raising/adjusting the boarding ladder.
There are port and starboard large deck boxes, placed midship on the boat deck, for dry storage.
Additional Information
Additional Electronics
STANDARD HORIZON Loud Hailer
POLARIS Radio Direction Finder
ICOM SINGLE SIDEBAND Radio
DAVIS Weather Station
SIMRAD Windspeed & Direction
KVH Satellite Telephone with Tracphone 25 Antenna
TELCOR Rudder Angle Indicator
INTERPHASE Scanning Sonar
CAMERA Monitor system - Engine room and Aft looking
IMMARSAT satellite TV antenna and system
Entire vessel rewired within last 10 years
Additional Inside Equipment
Vessel is equipped with KoopNautic  Hydraulic Stabilizer System. Fins removed, inactive.
Broan Trash Compactor in the Galley
Ice Maker in Crew Quarters
Chest Deep Freezer on Boat Deck
Marine Clock with Bells, salon
Barometer, Pilothouse
Additional Outside Equipment
Dual searchlights, 8 " and 12" with Pilothouse controls
Halogen headlight 
Windlass- Custom Bennett Hydraulic, twin spool
2 Navy Type Anchors, 250 lbs. on 300' of 1/2" chain, 350 lbs. on 300' of 5/8" chain
Boarding ladder for tender or swimmers, port side
Antique Coca Cola refrigerated cooler
3 HONDA CT70 motorbikes, need servicing
Disclaimer
The Company offers the details of this vessel in good faith but cannot guarantee or warrant the accuracy of this information nor warrant the condition of the vessel. A buyer should instruct his agents, or his surveyors, to investigate such details as the buyer desires validated. This vessel is offered subject to prior sale, price change, or withdrawal without notice.
Disclaimer
The Company offers the details of this vessel in good faith but cannot guarantee or warrant the accuracy of this information nor warrant the condition of the vessel. A buyer should instruct his agents, or his surveyors, to investigate such details as the buyer desires validated. This vessel is offered subject to prior sale, price change, or withdrawal without notice.
Additional Contact Information
If you call one of our NW Yachtnet Offices, please- ask to speak to the Listing Broker, Steve Shull
STEVEN SHULL MBA,CPYB
EMAIL  stevennwyachtnet@gmail.com
OFFICE 253-549-2010
MOBILE/TEXT/WHATSAPP 253-677-8950